010_Bur Stands
---
Bur Guard
Bur Guard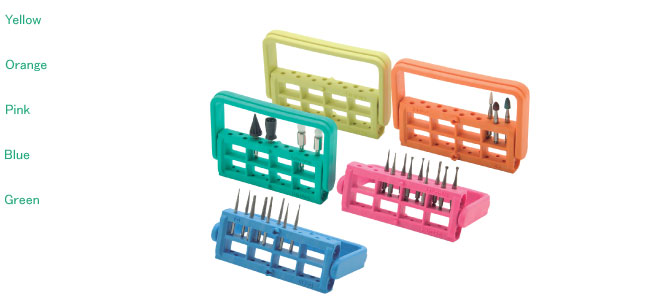 Size/ W69 X D10 X H41.5 ~ 56.5mm
(When using long cover/ W69 X D10 X H55 ~ 70mm)
*Holds burs 17 to 37mm in length. (When using the long cover/ 32 to 52 mm)
*Color-coded design allows organization of burs according to their type, treatment method, length, etc.
*The cover will not allow burs to fall out.

*Just a suitable size to put inside sterilization pouch.
*Product does not include burs.
*Sterilizable with liquid sterilizing solutions.
*Holds 12 burs.
*Material/ POM
*Autoclavable (up to 135°C)

(1) The main body is reversible for use in either FG burs or CA・HP burs.
(2) The height can be adjusted to three levels.
(3) Each Bur Guards can be connected.
(4) Also able to hold laboratory hand piece burs when using the long cover.
-Sold Separately- Reamer & Bur Guard Case

Size / W167 X D126 X H62mm
* Storage capacity /18 Reamer Guards.
* Sterilizable with liquid sterilizing solutions.
* Product does not include "Reamer Guards".
* Non-Autoclavable
| Description | Code No. |
| --- | --- |
| Yellow | 13471 |
| Orange | 13472 |
| Pink | 13473 |
| Blue | 13474 |
| Green | 13475 |
| Reamer & Bur Guard Case | 08439 |