Brand

Before all, our mission is to realize the voice and demand of our customers into a real product with consideration of usage environment, material, design, and processing method in the meantime we are continuously endeavoring new materials for both new instrument and product improvement with a cooperation of manufacturing division.
We are also flexible about OEM and order-made to meet our customer's needs.
Not only dental hand instruments but also we have currently been emphasizing on medical instruments.
Power that changes the commodity concept of development into the real product is manufacturing.
Since our company founded, we have been proud of the top level of its fabrication technology supported by both technical engineers and state of art facilities to immediately and adequately respond to the customers needs.
Especially those technologies, sharpening on the tip of the product or heat treatment process requiring high sophisticated technology directly influence on the quality of products.
The quality of YDM products has been always supported by its technologies ever since our beginning to the future.
Power that maintains and improves not only product quality and our pride of high quality, good reputation from customers is quality control.
We set the top level of quality standard in the industry.
We inspect its function, hardness, heat resistance, and chemical resistance tested by using various measuring equipments such as hardness tester, magnetic flaw detector, microscopes and so on. Only products that have passed the various detailed standard test are acknowledged as complete.
These quality control processes support our high quality products and stable supply to our customers.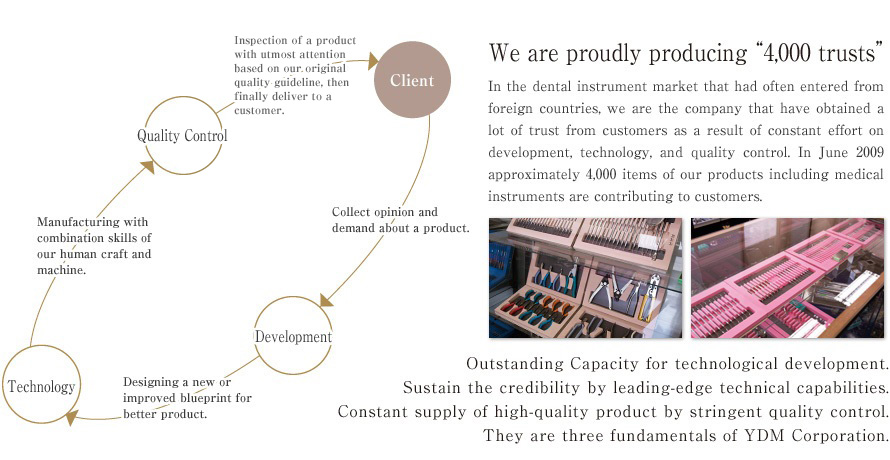 Top of Page


Grinding down the stick shape materials in 1/1000 mm scale by computer control.
It is a critical process deciding the quality of products affecting the all following processes.
Spin around the instrument parts shaped by NC lathe process and Sharpening stones to smooth the surface.
It helps to avoid attachment of taint and to attach infection prevention effect.
Process to finish up the best shape for each customer's needs by Press Work and metallic mold.
A metallic mold used in this process is also produced in our own factory.
It is a process to increase the degree of hardness.
Temperature of furnace managed under computer control.
Since it critically decides sharp performance of instruments, only experienced technicians practice this process on each instrument one by one with due care.
Assembling both a sensitive tip part where directly approach to a patient and a handle part held by a practitioner, then marking the YDM logo on an instrument.
Products are inspected with due care based on our strict standards of quality control then carefully packaged to certainly deliver to customer's hands.
Completed products are guaranteed its quality and safely stored in our warehouse to ensure stable supply.
With a pride of leading company in dental hand instruments field we clarify role in each manufacturing process and assign the dedicated professionals to confidently deliver products to customers.
Technical advancements of implement such as CAD/CAM, and machining center offer to create high precision and high quality of metal mold, which hugely contribute to the quality improvement of whole products.
We carefully select materials such as stainless, titanium, aluminum etc・・・ to meet customer's needs.
Special stainless steel is used for specially those blades requiring both hardness and pliableness.
The attribution of each metal stock is variously changed by heat treatment.
To maximize the potential of each material we internally control its heat treatment process with accuracy.