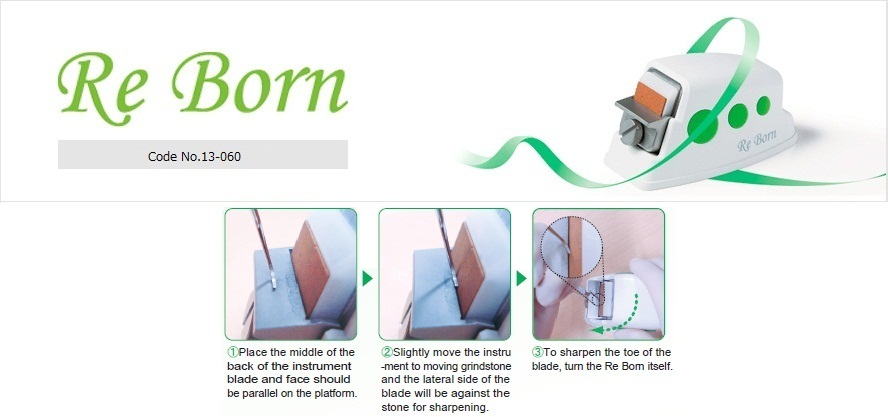 Product description
Body
Familiar streamline to hand.Computer mouse design allows you to fit comfortably in your hand. Small and easy to stored in any space.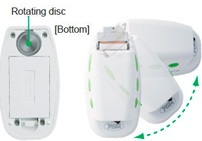 Body bottom
Rotating disc at the bottom allows you to turn the Re Born by only one finger and can be sharpen the lateral side and toe of the blade effectively.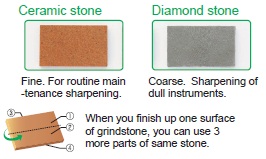 Sharpening stone
Moving grindstone is designed at the angle of 70°. There are two types of grindstone and easily replace it depends on the purpose.
Platform
Platform used to place the middle of the back of the instrument blade.
---
Photo

Product spec
Sharpening stone:

Ceramic stone / Diamond stone
Requires no lubrication.
Autoclavable
Grindstone can be used for 4 times of different part of its surface.




Body:

Plastic
Spining disc at the bottom
2 AA alkaline battteries operate the unit.





Contents:

Re Born : 1 pc.
Ceramic grindstone : 1 pc.
Ceramic stone is attached at the delivery.
Diamond grindstone : 1pc.
Sharpening tester : 1 pc.
Instrument cap : 1 pc.
AA Alkaline battery : 2 pcs.




Replacement:

Ceramic grindstone for sharpener Re Born
No. 90-418
Diamond grindstone for sharpener Re Born
No. 90-419
---